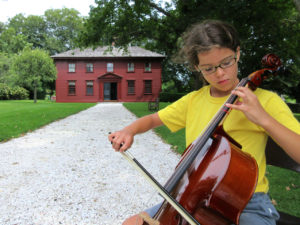 (July 4 2016)  The Costa-Baker family is again at Whitehall this month — their sixth visit.  Alan Baker, professor and chair of the philosophy department at Swarthmore College, gave a fascinating talk on the history of resident scholars at Whitehall after plumbing the archives.
His wife, Shelley Costa, a native of Newport, is researching Anne Berkeley and her influence on her husband's work.
Youngest daughter Sage fills the house with her music.  Her sister Chloe is an emerging artist.