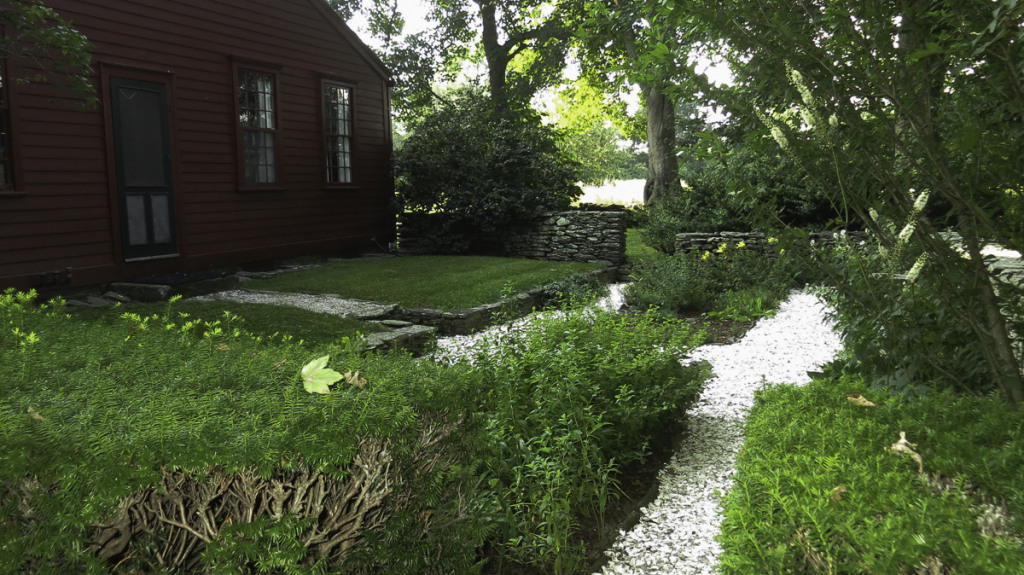 1729. The Berkeley family would have been primarily concerned with raising crops that would feed their family, guests and eventually the young men at the college in Bermuda. In ALCIPHRON, the book Berkeley wrote while at Whitehall, he describes a pleasant garden like a "summer parlor…with an arched door, opening into a walk of limes." During the American Revolution, British soldiers were quartered at Whitehall and all trees were cut down.
1897. Whitehall was rescued from being a storage building for the farm. Chickens roosted in the parlor, windows were broken, hay stored in the house and pigs in the garden.
1900. The Dames repair the stone walls and plant a row of pear trees lining the lane to the front door.
1930's. GARDENS OF COLONY AND STATE reports that there is "no trace of any formal garden planting." Chamomile, caraway, tansy, Bouncing Bet and Deptford pink grew at random. Dames had planted a box hedge with bushes from Mount Vernon. 1938 hurricane takes down old trees.
1956. Newport Garden Club holds a competition to design a garden for Whitehall. Mrs. Stanley D. Hart submits the winning plan. Early rose varieties were planted in a small formal garden on the east side of the house.
1970's. Garden of antique roses was changed to native American flowers.
1999 – 2003. Garden designed by Gypsy Altemus. It still continues her design today. There are three sections planted with herbs common to the early 1700's. One third is planted with healing herbs, another with household herbs and the final third with cooking herbs. The latter are ones best known to most visitors. The beds are bordered by a low teuchrium hedge.
2003. When Mrs. Altemus died, an orchard was planted in her honor. The varieties of apple and pear trees planted are ones that would have been used in the 1730's. These trees have started to bear fruit.
2011. Newport Garden Club continues to be involved. Provisional members help with weeding and maintenance.