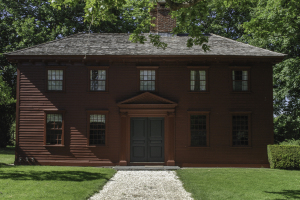 The mission of The Whitehall Committee of The National Society of The Colonial Dames of America in the State of Rhode Island and Providence Plantations is to preserve, protect, interpret and keep as a perpetual memorial, Whitehall, the home of Bishop George Berkeley from 1729-1731.
Whitehall Museum House, only five miles from downtown Newport, is set on the remnants of an eighteenth century farm. Its first resident, Dean George Berkeley, enlarged the first dwelling to become a country manor house in 1729. He chose the Palladian style for its prominent double front doors, making it one of the first vernacular buildings in America to use such a detail.
During Berkeley's stay on Aquidneck Island, many visitors knocked on this door to learn and receive counsel from this renowned philosopher and educator. He and his wife Anne Forster Berkeley came to Newport with the mission of starting a college which would bring the sons of colonists and of Native Americans together.
He wrote these famous lines from the poem VERSES ON THE PROSPECT OF PLANTING ARTS AND LEARNING IN AMERICA (1752):
"Westward the Course of Empire takes its Way;
The four first Acts already past,
A fifth shall close the Drama with the Day;
Time's noblest Offspring is the last."
to express his optimism for his goals in America.
The college was to be located on the isle of Bermuda, not that distant by sail. Unfortunately the funds for this enterprise were not forthcoming from the British Parliament, and so the Berkeley family returned to the British Isles, where he became the Bishop of Cloyne in Ireland.
Bishop Berkeley gave his property and much of his library to Yale College upon departure in the summer of 1731. Rent income from Whitehall was to be used for scholarships for those studying for the ministry at Yale; hence the name of the Berkeley Divinity School at Yale. In the nineteenth century, planners for the new University of California, named the town of its location after this eighteenth century philosopher. So his name continues to be associated with higher education until this day.