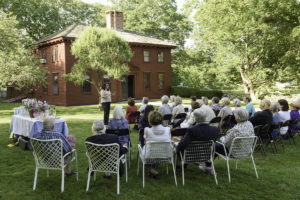 Theresa Guzman Stokes of The Rhode Island Black Heritage Society, guest speaker at our Flag Day celebration, June 14
Whitehall Museum House will be open to the public July 1- August 27, 2017, or by appointment.
Hours are Tuesday – Sunday, 10 am to 4 pm.   The house is closed Monday.
Our scholars in residence will be on hand to give tours Wednesday – Sunday;  on Tuesdays members of The National Society of The Colonial Dames in Rhode Island and Providence Plantations will give tours.