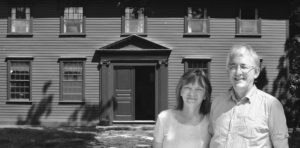 The Right Reverend Dr Michael Ipgrave, Bishop of Lichfield (UK) and his wife, Julia are the fourth and final Scholars in Residence at Whitehall for 2017.
Bishop Michael has written extensively on questions of religion and human rights, and was awarded the OBE in 2011 for his work on inter-faith relations.  Dr Julia Ipgrave is a Senior Research Fellow at the University of Roehampton, London.  Her present research examines the relationship between religion and society.
Whitehall is owned and operated by The National Society of The Colonial Dames in Rhode Island and Providence Plantations. The house is open to the public during July and August, or by appointment. Hours are Tuesday – Sunday, 10 am to 4 pm.
The house is  now closed, except by appointment.
And God-appointed Berkeley that proved all things a dream,
That this pragmatical, preposterous pig of a world, its farrow that so solid seem,
Must vanish on the instant if the mind but change its theme;
W.B. Yeats, from 'Blood and the Moon' in The Winding Stair (1929).